Bring it all with you
Can't decide which barrel or mouthpiece best suits the occasion? Now you can bring all your Backun products along wherever you go. A durable hard shell exterior with custom foam inserts make this accessory perfect for dealers, teachers, and Backun connoisseurs everywhere.
Fits 14 barrels, 18 mouthpieces, or 7 barrels and 9 mouthpieces. Barrels and mouthpieces sold separately.
Customer Reviews
03/22/2022
Peter A.

United States
The perfect case for MPs and barrels
Every clarinetist needs one of these cases! Not only is it a great way to keep the stray MPs and barrels I own all in one place, it really tidied up my music studio. It has that rare combination: perfect for the job, and reasonably priced.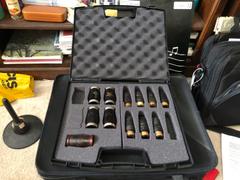 05/12/2022
Backun Musical Services
Love it! Looks like you've got room for two more barrels though... we can help with that too! :)
03/21/2022
Andre Z.

France
Very good and pratical case
I have collected about 20 mouthpieces and barrels and always looking for a pratical case to bring them together with me, and the cases are very suitful. The only thing was delivery with Fedex. They told me the cases should be delivered from 9:00 am until 18:00 pm and I had to stay for 3 whole days because everytime the postman just passed and left no call no message.
05/12/2022
Backun Musical Services
Sorry to hear of your of your issues with FedEx. Shipping has been a challenge the last couple years due to the ongoing situation. Hopefully it returns to normal soon!
10/11/2021
Hyun K.

United States
Mouthpiece or Barrel Case
Very convenient. I can arrange all of mouthpieces at one place. I don't have dig an old tin case to find the right mouthpiece any more.
08/07/2021
Robert B.

United States
Mouthpiece Case Review
This is a great product at a fantastic price. It a huge help in evaluating several mouthpieces to resolve issues in reed adjustment, mouthpiece selection, etc. I have two suggestions with respect to issues that kept me from rating it with 5-stars. First, the foam padding has a tendency to fall out when opening the case. (I resolved this with double-stick tape). Second, I would orient the mouthpieces 180-degrees so that when the case is resting on its base, the mouthpieces are resting on their joints, not on their tips. Thank you for making this great product! Bob Barnhart
05/16/2021
Michael P.

United States
I recommend this product
A Versatile Case for Mouthpieces and Barrels
I purchased the 9 mouthpieces/ 7 barrel model a few years ago to hold my collection. I am still working to fill it up but you can see how the foam inserts can be removed as you acquire new mouthpieces/barrels. I even put in a hygrometer in a barrel spot. It is a very simple design but gets the job done. It is pretty light but provides proper protection. I highly recommend.
04/21/2021
John D.

United States
I recommend this product
Getcha' One!
Great product! Exaclty what I was looking for and needed.