A force to be reckoned with
Big halls are no match for the MoBa Bell, which is a powerhouse well suited to orchestral and solo stages. With a taper unique to the MoBa product line, an integrated Voicing Groove, and a bold bell curve, the MoBa Bell offers players exceptional versatility and projection.
Specs: Backun Voicing Groove. Standard or Selmer Paris fit. Adaptable to Bb and A Clarinets.
Customer Reviews
07/14/2022
Gilles T.

Canada
Immediate improvement
Beautiful low chalumeau and marked improvement with ease going over the break.
05/14/2022
Monique G.

United States
Exactly what I was needing!
I purchased both the MoBa barrel and bell to liven-up my 1970's R13 (Vandoren M30 mouthpiece). I was skeptical about how much difference I could attain but truly surprised; articulation was freer and responsive, my tone maintained richness and best of all, when I pushed most forte it opened up without spreading or edginess! This cocobolo combo, for me, blossomed with fullness in greater projection. Trusted listeners gave this feedback.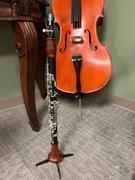 08/19/2021
Jan T.

United States
Improved Tone
This bell improved the tone on my clarinets.
12/18/2020
Michael T.

United States
I recommend this product
Backun MoBa bell
Love the new bell. Pitch center is improved. The stability in altissimo register is a huge improvement. It's hard to improve on a Buffet R13 but my Backun barrel and Backun bell have created a marked improvement to my horn
10/27/2020
Nancy L.

United States
MoBa Cocobolo Bell
I am in love with this bell! I bought it to pair with my MoBa Cocobolo Barrel and it is fantastic! I am using it on my Buffet R13 Clarinet. It provides a rich tone and makes it so much easier to cross the break and to play altissimo! Only wish I could afford a real Backun clarinet but this is the next best thing.