Play with exceptional comfort and support
The Ton Kooiman Maestro 2 Thumb Rest allows players who desire improved comfort and ergonomics to enjoy their clarinet playing more fully. For those with RSI injury or other concerns, this product can be a game changer in terms of comfort and support.
If you play a Backun Custom Clarinet (including CG Carbon, Lumière and MoBa models), you now have the option of a simple, piece of brass for exceptional strength and durability that installs in minutes with a Philips screwdriver.
For all other clarinets, please choose the Standard Plate option, noting that you'll be required to have the product custom drilled and installed by your local music professional.
Please note: This product only fits the Ton Kooiman Maestro 2 Thumb Rest and NOT the Etude, or other models! The adapter is solid and unplated brass.

How to Install the Backun Custom Plate
Customer Reviews
04/13/2021
Louise N.

United States
I recommend this product
Great thumb rest especially if you have arthritis
This thumbrest is essential If you struggle with arthritis in the hands. It takes all the pressure off of the thumb and puts it higher up. It's fully adjustable and incredibly well-made.
06/02/2021
Backun Musical Services
Thank you for your feedback Louise! If you're considering this product to assist with a medical condition, please remember to consult your doctor. That being said, many players have found that this product has saved their career. Definitely worth a try in many instances.
01/05/2021
Patricia L.

United States
I recommend this product
Just Amazing, I am pain free playing!
Once I retired I finally had time and returned to playing my clarinet. Unfortunately as I have aged, so have my joints! I have a terribly arthritic thumb. I have purchased 4 different thumb rests and actually talked with a friend about making some type of adaptive splint or device! I could only play for short periods before pin became too distracting. I thought I would have to stop playing. I stumbled onto the web site advertising this device, what a Godsend! It was exactly what I needed to move pressure and torc from my. Thumb joint! I am pain free! You should advertise this to the New Horizons Senior Citizens Bands!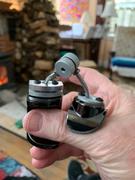 12/19/2020
Noe F.

United States
I recommend this product
Drilling my clarinet
This item, need other design with plate.
09/20/2020
Carrie R.

United States
Kooiman and Backun Perfectly Paired!
I had been utilizing the Kooiman Maestro 2 thumbrest on my prior clarinets for a few years, after a very long and challenging recording session that left me with 2 weeks of zero control of my thumb due to a pinched nerve from the pressure. I had used a neckstrap for quite some time but it quickly lost its effectiveness to ease the pressure and weight my thumb was carrying from the instruments. The Kooiman has been a career-saver for me, as it moved the weight of the clarinet to the "crook" of my hand and not on the end of my thumb, allowing for effortless holding of the clarinet. No more pain or numbness in my thumb or wrist, and no tension in the right hand fingers. The Kooiman has multiple adjustment points (up and down, left and right, rotating) and a unique ball-and-socket mechanism, and is fully adjustable to any hand. I was able to adjust it as needed for both the Bb and A clarinet. I received the new brass plate for my MoBas this week. The custom brass plate replaces the original thumb rest plate and it fits seamlessly into the inset for the thumb rest on the custom clarinets. The Maestro 2 slides onto the brass plate with ease, and is then adjustable on the plate as it is on the standard flat plate. NO drilling needed as the plate utilizes the screw holes from the original thumb rest (new screws provided as well). I have no words to express how happy I am to feel like myself again with the Kooiman and Backun perfectly paired! Thank you, Backun, for once again providing your customers with another great tool in our arsenal to make beautiful music.
08/14/2020
Larry F.

United States
At last!
I have been Looking at the Maestro over a year. I bought one but I found it not compatible with the Moba and installed it on another clarinet. But I was still hurts myself with the old thumbrest. Sean mentioned to me to stay tuned the brass plate was coming out. Now I can attach it to any of my clarinets that already has the mounting plate.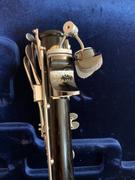 A second life.
My Moba is a heavy instrument and put a lot of weight of my weak right thumb joint. The lower joint is heavier with the Eb linkage and thicker grenadilla. I am diagnosed with arthritis in the joint. I am 72. Clarinet straps got in the way and often tangled in putting and taking off between music selections. My left hand often hit the strap while playing. The ProTec cushions relieved my thumb. But still there was too much weight on the joint itself. I knew about the Maestro going on line. This was about the time the pandemic was hitting its peak. It was often out of stock, and I was desperate. Mail deliveries were delayed all over. Give up clarinet (as my doctor suggested)? No!. I finally bought one locally at an oboe shop here in California. I got it quickly because I lived about 10 miles away in Berkeley. I stuck the Maestro on my Buffet which I played while my right thumb got better since I discovered it won't fit as is. I have the Etude 3 which I will switch to the Buffet and use the Maestro where it should be used. May I continue while my embouchure is still good. .