The original E♭ cutback

Backun E♭ Barrels feature a unique cutback design that allows the use of B♭ clarinet reeds on an E♭ mouthpiece, without the need to trim them. Artists love how this barrel improves intonation and flexibility, while stabilizing the tone of the instrument throughout all registers. Paired with the Backun E♭ Bell, this barrel really tames the savage beast.

Specs: Grenadilla or cocobolo wood. Tulipwood by special order only. Please contact us to order.

Fit

Most instruments use Standard fit. Standard Plus is the same fit with a larger bore that's more free blowing. Many (but not all) Selmer Paris instruments use Selmer Paris fit.

Length

Most Eb clarinets are approximately 41 to 43 mm, but this varies by manufacturer. If you're happy with the tuning you'll want to order the same size as listed on your current barrel.

Wood

Cocobolo is red in appearance and offers a dark, full-bodied tone. Grenadilla is brown or black and offers a more focused sound with increased ping and projection. Tulipwood blends the best of both worlds.

Still Not Sure?

That's ok! Please contact us for assistance, we'd be happy to help.

 

What's included?

One barrel, one velvet bag, and one barrel tube.

How can I purchase locally?

Please use our Dealer Locator to find a Backun dealer in your area.

Do you offer trials?

All online orders come with a 14 day trial starting from the day of delivery. All orders must be paid in full before shipment.

How much is shipping?

Shipping is free to Canada and the USA. International orders under $500 cost $49 to ship, but orders over $500 ship free.

See our complete Store Policies.

What is the warranty?

Backun Barrels come with a two year warranty from the date of purchase.

See complete warranty information.

 

 
Please note that demo and pre-owned products are final sale and sold as is.
Customer Reviews
11/25/2020
Sean K.

United States
I recommend this product
Eb cutback review
This one hit the spot! It took a few tries to get the right length, but we finally nailed it. The instrument is wonderfully in tune, even the throat tones, which used to always be stuffy and flat. And such a pretty, warm tone! Huge thanks to Sean and the whole team for their patience and expertise.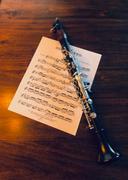 09/21/2020
Sean K.

United States
Eb cutback review
This has been the missing link in getting my Eb to really sing. All the harmonics are lining up and the intonation has improved greatly. I'll be buying the bell very soon. Thanks Sean and the Backun team!